In him the Old Testament finds its fitting close. He brought the noble line of patriarchs and prophets to its promised fulfillment. What the divine goodness had offered as a promise to them, he held in his arms. - from a homily of St. Bernardine of Siena.
Some images for you, first a vintage holy card from the
Shrine of St. Joseph in Montreal
that interests me because it predates the construction of the large basilica:
From the Oratory of
St. Joseph in Montreal.
I just love the blues on the card above and the not-quite Art-Noveauishness of it.
At the shrine featured in the vintage holy cards. Summer 2011.
The sign says "Reserved for pilgrims climbing on their knees."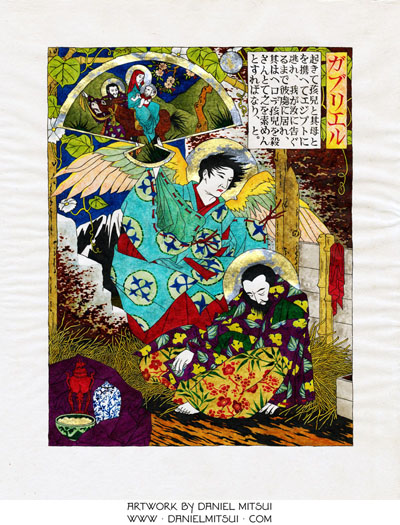 The wonderful Catholic artist
Daniel Mitsui,
whose depiction of St. Joseph dreaming is above, has a blog. It is an absolute treasure trove of wisdom, whether you are an artist or not.
Please go visit, bookmark, visit every day and support his work. Easter's coming. Surely there's someone out there who'd appreciate the gift of one his prints?